Garden office & gym gets facelift
Case study source: Owatrol UK Ltd
Cladding Timber: Western Red Cedar
Decking Timber: Southern Yellow Pine
Products: Owatrol Seasonite; Owatrol Net-Trol; Owatrol Aquadecks
Tel: 01582 592707
An Owatrol customer was so delighted with a recent garden building makeover that he sent before and after shots of the project.
The owner of this cedar clad building decided it was ready from some 'timber TLC' and called in professional help from an Owatrol customer.  When the building was installed 2 years previously, the customer had used Seasonite new wood protection to protect and stabilise the new wood during its formative years.  The maturing building was now of an age where it would benefit from a clean, before a refreshing finish could be applied, as you can see.  
Much of the discolouration is caused by rainwater splash back because the cladding is fitted to ground level.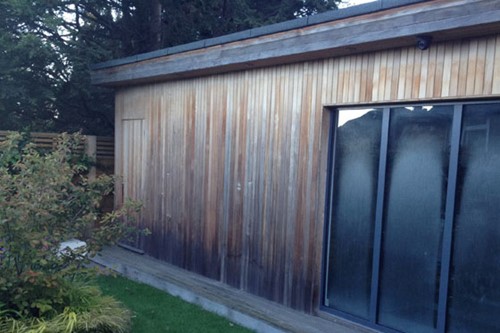 Firstly, Net-Trol was applied
By using this powerful and fast acting wood cleaner and brightener, the client was able to restore the natural colour of the cedar cladding and decking and clean it quickly and easily. Before starting work, all the areas of the building which didn't need work were masked off.
Net-Trol is non-aggressive and is harmless to plants, so there was no need to worry about it damaging the grass next to the garden office.
Firstly, the cladding and the Southern Yellow Pine decking were made wet with fresh, clean water. Then Net-Trol was applied with a synthetic roller followed by scrubbing the surface with a stiff synthetic brush. After leaving it to stand for around 15 minutes, the customer then scrubbed the surface whilst simultaneously rinsing it with water. Taking care, you could also use a pressure washer, max. 60 bar.
If the surface starts to dry while you're leaving the Net-Trol to work, simply mist it with more water. If you want, you can repeat the procedure but, in this case, the client did not have to. The customer then left the cladding and decking to dry for 48 hours before applying the finish.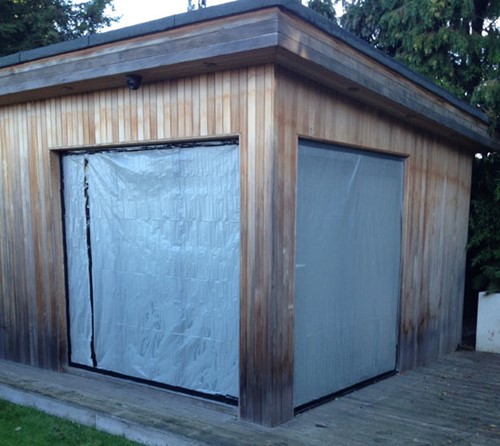 Next followed Aquadecks
Aquadecks, a water-based penetrating wood finish that provides advanced UV protection, was the ideal choice to revive and protect this cladding and decking.  One of the benefits of Aquadecks is that maintenance is easy, with no sanding or stripping required.
In this case a liberal amount of Aquadecks was applied. The customer worked in sections that he could complete within 30 minutes, working in the direction of the grain.  After the 'wet look' of the first application disappeared, he then applied a second coat of Aquadecks. He then allowed it to penetrate for 15-20 minutes.  The customer then wiped away any excess Aquadecks that had not penetrated. This avoided it drying in shiny spots on the surface of the cladding.
Aquadecks comes in a variety of colours but in this case the customer chose a Honey tint.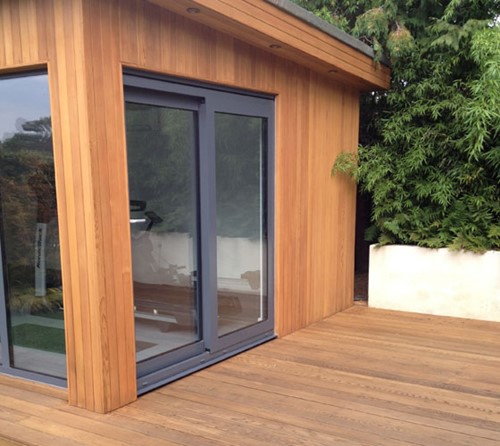 The Net-Trol and Aquadecks makeover has certainly brought this garden office and gym and adjacent decking back to life.
Owatrol Keep up to date.
Subscribe for news and product updates.