Deckbuilders
Deckbuilders can produce bespoke designs for individual clients, taking into consideration all aspects, requirements and needs. The results create additional outdoor living spaces which complement a client's lifestyle and budget.
Deckbuilders use a variety of hardwood and pressure treated softwood timbers in their projects which incorporate decking, gazebos, porches, sun rooms and spas.
Deckbuilders UK are timber decking specialists providing nationwide deck design and installation services.  They have invested in their own pressure treatment plant so they can be absolutely certain that their softwood timber decking is treated correctly.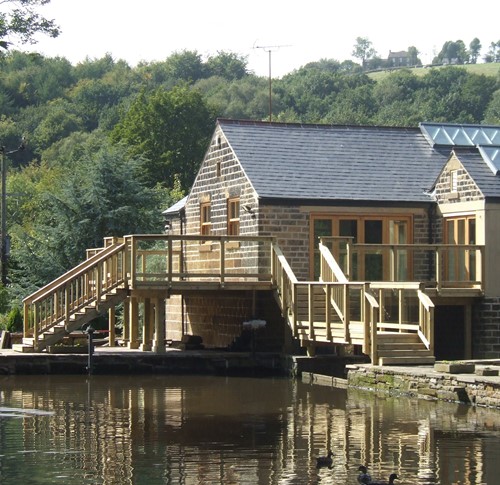 If there is a better deck company, let them step forward.  We still cannot get the smile off our faces - the deck is a real game changer on how we use the back garden space.  You and your team have been first class from enquiry to completion, industrious and problem solving, but not at the expense of quality. I think we could charge at the gate the number of neighbours who want a look see.
Mr Tinner
Deckbuilders is a member of the Timber Engineering Designer sector – companies that have demonstrated (by verification audit) that they possess the expertise to carry out accurate topographic surveys of sites and produce detailed engineering (or CAD equivalent) drawings that are correctly detailed and structurally engineered for construction/building control purposes.
A textbook project in every respect, resulting in a fantastic timber construction which should be award winning! An outstanding upgrade to a residential property which will give years of service and add considerable appeal, useability and saleability to a very desirable property. Deckbuilders approach is class leading in every respect and the same considerations to design, site management and H&S standards are given to all projects from large projects for a PLC to a residential project like this. Commendable!
Auditor's comments
Go to the Deckbuilders' website for more information, to request a design consultation or see more of their work.
Find out more
Deckbuilders also provides commercial decking solutions for corporates, businesses and government authorities.
Commercial decks
TDCA Accreditations
Registered in the TDCA 'Timber Engineering Designer' sector giving added reassurance particularly for high or multi-level decks. Keep up to date.
Subscribe for news and product updates.