Bainland Lodge Park
Marley Antislip Plus decking provides a safe and durable solution for the outdoor spaces at Bainland Lodge Park.
So far, over 7,000 linear meters of Marley Antislip decking has been installed at Bainland Lodge Park ensuring the park maintains its rustic feel and distinct aesthetic.
Product: Marley's Antislip Plus Decking
Supplier: Jackson Buildbase
Installer: Sabre Contracts
Photography: Courtesy of Marley Ltd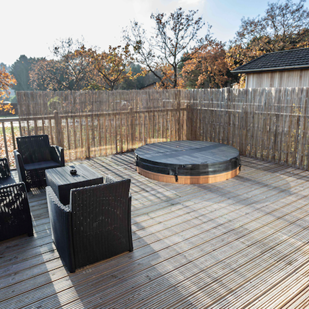 Bainland Lodge Park is a rural escape in the Lincolnshire countryside, nestled on the outskirts of the picturesque Edwardian town of Woodhall Spa. It is a wilderness retreat for those who want to escape city life but still want a 5-star experience. Housing over 70 lodges and glamping tents, each has its own decking area with integrated hot tub, BBQ and seating – hubs for social gatherings and a key draw for anybody staying at the park
Marley Antislip Plus decking was chosen for the refurbishment and upgrade of the lodge decking areas. The improved grip and low-slip potential that Marley's Antislip timber decking provides, ensures both the safety and aesthetic feel of the park are maintained.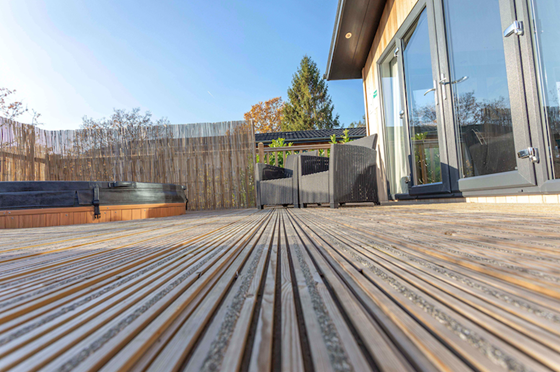 Our relationship with the park represents an ongoing project of chalet installations that encompasses work across the board...Marley Antislip Plus decking is a product we have been using for a long time because of the incredible benefits it brings to a project and we always recommend the product to our clients when drawing up plans for undertakings such as this.
Paul at Jackson Buildbase
Marley Antislip Plus deck boards have been independently tested by the Health & Safety Laboratory in accordance with BS 7976.  The deck boards are preservative treated to Use Class 3. As with all projects, Marley were on hand to provide technical support from specification to installation.
The timber decking is also used for the bridges and boardwalks around the three lakes of the park, designed for wild swimming. Whether it's swimming in the lakes or socialising in the hot tubs, Bainland Lodge Park is enjoying the peace of mind that comes with using a high quality decking solution.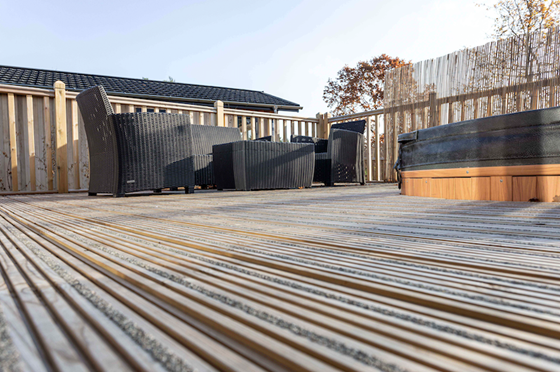 To find out more about Marley's Antislip Plus decking call directly 01283 722588 or
Visit the website Keep up to date.
Subscribe for news and product updates.