Mercia Marina
Howarth makes waves at Mercia Marina with Thermowood D cladding and decking
A stunning finish in keeping with the natural surroundings
Supplier: Howarth Timber and Building Supplies
Description: Thermowood D cladding and decking
Location: Willington, Derbyshire
Photography: Courtesy of Howarth Timber
Thermally treated redwood cladding and decking from Howarth Timber and Building Supplies has been installed at The Boardwalk - the marina's retail accommodation - co-ordinates aesthetically with the thermally treated pine decking which was also selected for the marina.  Further benefits of the cladding and decking include its ability to maintain size and shape, durability, stability, strength and consistent colour change on weathering.  Sustainable sourced with PEFC certification, the material also has a decreased risk of mould and improved thermal and hygiene qualities.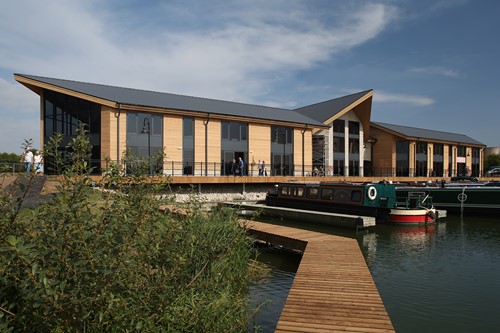 The marina, in Willington, is Europe's largest inland marina and boasts a plethora of biodiversity and wildlife. The Boardwalk also boasts a bar and restaurant in which customers can wine and dine, along with a farm shop and a host of boutique retailers.  Howarth's cladding and decking therefore suits the surrounding natural environment whilst ensuring a sleek appearance in its high profile location.   The building is now a landmark in South Derbyshire and looks fantastic!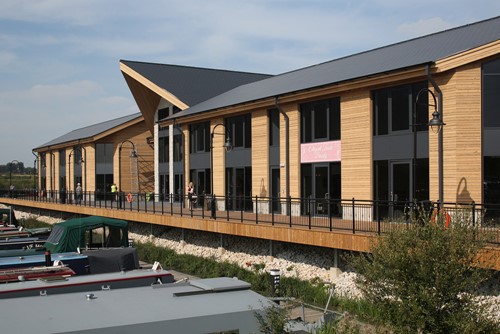 Thermowood is readily available, plantation grown softwood timber that has been modified using a thermal process which improves the durability and stability of the timber.  The D grade is suitable for external use and is classified with class 2 durability which equates to a 30 year desired service life specification (BS8417) in external, above ground end use (Use Class 3 uncoated).
Fire retardant, painted or stained options are available . Bespoke profiles are subject to minimum order volumes. Keep up to date.
Subscribe for news and product updates.