Perth Racecourse
An impressive looking building with contemporary lines and a cladding facade that complements the styling and feel of the modern construction
Material: Structurally finger-jointed Scottish Larch from Glenalmond Timber Company
Profile: Secret nailed profile GT006
Fire Protection: Exterior grade factory applied fire retardant
Builder: Deeside Timber Frame
Client: Perth Hunt
Photography: Courtesy of Lonza Wood Protection.
Just over two miles from the centre of Perth is a new hotel enjoying a unique situation in Scone Palace Park - nestled between Scone Palace, Perth Racecourse and the River Tay. The Lodge at Perth Racecourse is quickly gaining a strong reputation, since the 23 bedroom hotel opened in 2016, not least for its sharp looks and timber cladding exterior.
The issue of cladding waste
Glenalmond Timber Company, a Scottish specialist in engineered timber solutions, was first approached by Deeside Timber Frame to discuss what was to be a quick turnaround project regarding the construction of The Lodge at Perth Racecourse. The initial specification from the client (Perth Hunt) was that Scottish Larch cladding should cover the entire external facade. And yet, with much specialist experience, Glenalmond could offer some useful insight on this potential route.
Initially quoting on standard lengths of 3.6 metres and 4.8 metres, Glenalmond suggested that there would be around 15% waste on site, due to the use of standard stock lengths. Further waste, they warned, would then occur during fire retardant treatment. The standard lengths of Scottish Larch cladding would need to be  fire retardant treated, which involves high pressure treatment and subsequent kiln drying, ending with a 70°C curing process. There would be, Glenalmond warned, at least another 15% wastage incurred post treatment. This was not an unsubstantial amount.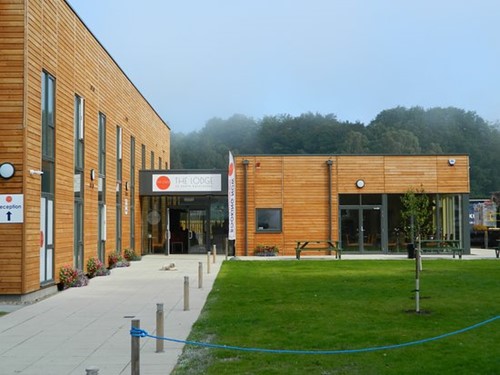 Structural finger jointing for optimum results
Perth Hunt decided to meet with Glenalmond and tour their facility in Methven. It quickly became clear that the clients liked the idea of locally grown larch but were looking for a better, cleaner visual aesthetic, closer to Siberian Larch in fact. This would complement the contemporary design of the building.
There are some limitations to Siberian Larch and Glenalmond worked through these with Perth Hunt so that they were making an informed decision. Siberian Larch tends to be rotary grown. It twists as it grows and so when milled and kiln dried, it tends to bow and twist. Also, there is a significant reduction in yield once boards with a high percentage of sap and dead knots are removed.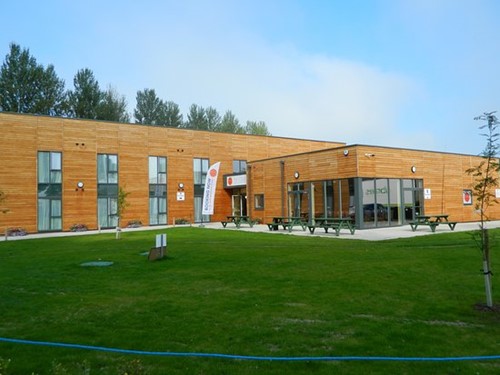 Glenalmond suggested the optimum solution for this project would be for them to supply CE structurally finger jointed Scottish Larch cladding. By structurally finger jointing and defect cutting the boards, Glenalmond could significantly reduce waste on site, remove all butt joints, improve productivity and most importantly, aesthetics. The cladding would then be fire retardant treated to Euro Class B.
The only remaining challenge was the tight lead time. As Perth Racecourse had scheduled meetings in the diary, all parties had to work around this and ensure that tight deadlines were hit for completion. As the average fire retardant treatment takes four to five weeks, Glenalmond had to work hard to expedite the process and prioritise the project.
The result can clearly be seen in the photography - an impressive looking building with contemporary lines and a cladding facade that complements the styling and feel of the modern construction - completed with the minimum of waste. Keep up to date.
Subscribe for news and product updates.