Timber cladding renovation for 60's house
Western Red Cedar from Silva Timber
Inspired by the Channel 4 programme Grand Designs, a couple from Surrey completely re-vamped a tired 1960's house into a stunning, modern, timber clad home.
They knew exactly what they wanted to achieve; a modern, bright house that would require little maintenance.
To complement the grey aluminium windows and white render, and to bring some warmth to the facade, the couple selected Western Red Cedar Cladding supplied by Silva Timber.
Keen to create a bold shadow line, a channel profile was the obvious choice, opting for a vertical application that works extremely well alongside the large, glazed panels to the rear.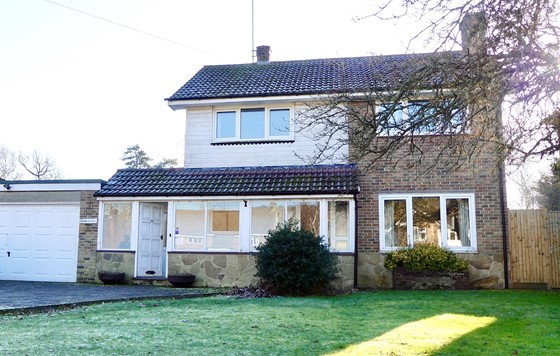 Not wanting the wood to grey over time, the wood was factory coated in Sansin SDF Precision Coat Natural Tones Harvest Gold. This specially formulated coating penetrates deep into the wood to give a long-lasting colour that emulates the natural tones found in cedar.
Prior to receiving the order, Silva provided three samples of the channel cladding which had been coated in the Harvest Gold colour. This allowed the customer to see how the coating would look when applied to the light, medium, and dark colour tones of the cedar wood.
The client then cleverly planned out the installation to ensure an even distribution of colour tones throughout.
Silva Timber were at all times very efficient. I probably had, over the course of a few weeks, half a dozen or more conversations about materials, treatments, quantities, fixing methods, etc., and everyone I spoke to was very helpful. The delivery was on time and the driver was as helpful as he could be. We are very happy with the house and how it all came together at the end. It looks just how we pictured it and it is a great place to live.
David from Surrey Keep up to date.
Subscribe for news and product updates.