Accoya decking reaches new heights in Banff
Contractors: PCL Construction Management Inc | Designer/Structural Engineer: ISL Engineering
The views from Banff Gondola observation deck at the Sulphur Mountain summit in Alberta, Canada are nothing short of spectacular. The gondola ride to get there ascends over 600 meters to the summit of Sulphur Mountain. Once you arrive you are greeted with the gorgeous views of the surrounding mountains. It is truly breathtaking.
The spacious observation deck made from modified wood Accoya, invites visitors to relax and enjoy the stunning mountain scenery in style. The Accoya decking materials, provided by Upper Canada Forest Products, were transported to the top of Sulphur Mountain using the gondola line material carts and helicopter hoisting.
Accoya was chosen not only for its authentic wooden aesthetics and sustainability but also for its impressive performance. At these altitudes, winters bring a lot of snow and extreme temperatures, the stress of which can be problematic for many materials. The high amount of foot traffic from tourists, which puts added stress on the deck, also needed to be taken into consideration by the project team. For Accoya, these challenges are no problem at all. Due to the patented acetylation process, Accoya wood is very dimensionally stable so it barely shrinks, swells or warps, and is extremely durable in all weather conditions. Which made it the right choice for this project.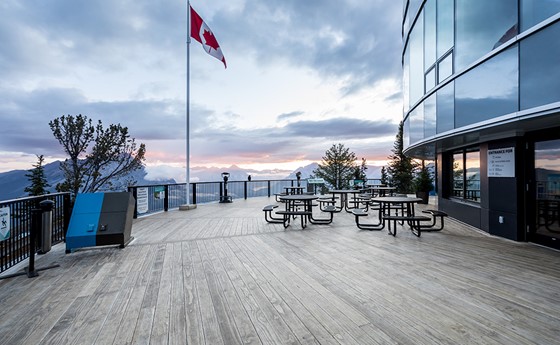 Keep up to date.
Subscribe for news and product updates.