Playscheme memorial treehouse project
From the Marley range of anti-slip timber decking products, Playscheme chose Marley CitiDeck as the product of choice.
In memory of four year old Jake Smith who passed away in December 2016
Product: Marley CitiDeck antislip deck boards
Designer/Contractor: Playscheme
From the Marley range of anti-slip timber decking products, Playscheme chose Marley CitiDeck as the product of choice for the Robert Wilkinson memorial project – Jake's Treehouse. The project comprised of a bespoke treehouse along with surrounding walkway and garden area, designed and built in memory of Jake.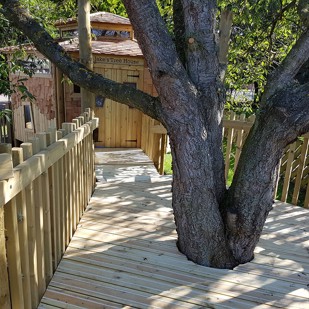 Funding for the project was raised with the help of Strensall Community, Robert Wilkinson Primary Academy and Jake's family with the ambition being to create something that would not only be a memory to Jake, but also give back to the local community. The treehouse was expertly designed to reflect Jake's personality, with quirky angles and coloured windows to represent his liveliness and enthusiasm. The surrounding garden area includes a community planting space, a small pond and tree platform.
Because of the dual purpose for the project, Playscheme had to ensure that it would be suitable for heavy, sustained use by children playing in the treehouse and surrounding communal planting space. The combination of potentially damp terrain and the walkway leading up to the treehouse was understandably a key area of consideration. 
Marley's CitiDeck anti-slip timber deck boards were selected by Playscheme for the entirety of the decking, with a combination of contributing factors being highlighted by the developer – the anti-slip profile, the beautiful aesthetics of the timber itself and the proven longevity of the product.
Everything that we build has everything checked. Every opening, every gap, every bit of a wood that comes over a rail. Everything is measured and checked over around four times before it's actually signed off. Especially because children might be going from wet grass, and running up the stairs into the treehouse, meant we needed all decking to be non-slip for safety reasons, and the product we go to for that is Marley CitiDeck.
Graham Swales, Production Assistant at Playscheme
Antislip Plus Smooth deck boards provide a durable and effective anti-slip surface for visitors
Rushden Lakes
Discuss your next project with your local Marley expert
Find them here Keep up to date.
Subscribe for news and product updates.