Award winning geometric cladding, Alfriston School
Thermally modified Frake supplied by EcoChoice
Architects: Duggan Morris
Frake is a beautiful West African hardwood which is often used for interior applications due to its lower stability and durability.
EcoChoice supplied thermally modified Frake cladding for this project - which has enhanced stability and durability. The treated FSC certified Frake has an initial golden colour which weathers relatively quickly to a beautiful silver grey.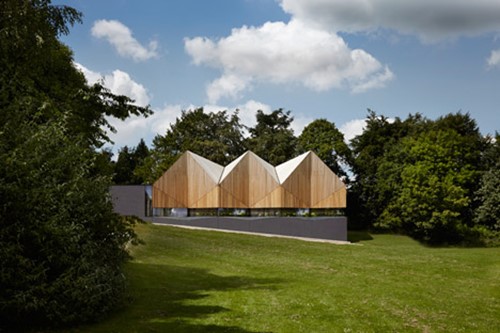 Architects Duggan Morris won a RIBA design award for this project. Their attention to the surrounding environment as well as to minute detailing achieved a great blend of form and purpose to the all-girls school. 
The 18 x 140mm PAR boards were pre-assembled as panels off-site. For safety reasons, they were also flame retardant treated (due to its increased porosity, Frake takes up the retardant treatment really well). Keep up to date.
Subscribe for news and product updates.